latest turning work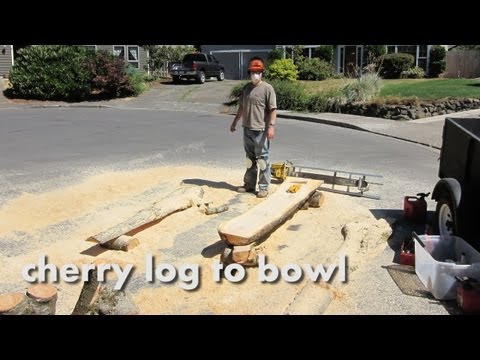 This is the story of woodturning two cherry logs to a  bowls.  I scored 2 cherry logs someone had pulled out of their backyard. With the help of my friend Brian we chainsaw milled the logs into beautiful cherry lumber.  The saw a Mcculloch super pro 125, worked great, it has given us grief in the past.  After we had slabbed what we wonted for lumber, I was left with three nice wood paces for wood turning, these were the places where bunches had come off the truck.  This wood is better for turning than slabbing into lumber.
The question became how to cut these into pieces I could turn on the lathe.  In the past I had just put whatever piece of wood I had on the ground and just cut it.  This was not so safe and did not give me the best choice of where to cut the wood.  I designed a saw buck to help hold the log while I cut it with the chainsaw.  The saw buck consist of two "x" structures at each end and three struts running between them.  The saw buck ended up working great, I don't know why I didn't build one of these years ago.
From what I cut with the chainsaw, I use my band saw to cut out round blanks to turn on the lathe.  The band saw is a 1947 36″ Fay and Egan.  The leftover paces after cutting out the turntable section from the wood were very interesting as well.  I turned down the wood into bowl ruffs that will now have to dry for about a year, before final turning.
Comments Off

on log to bowl