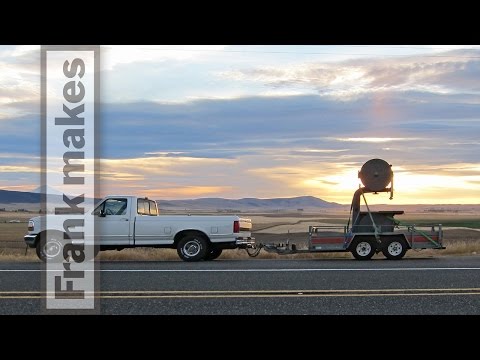 In the Fall of 2011, I found this J. A. Fay & Egan Co. 950 Lightening band saw at the Millwork Company in Zillah, Washington. The previous owner got it in 2002 or 2003 from the McNally Lumber Company in Columbus, Ohio, who was the original owner.  They purchased the saw in 1947. It was on the second floor at the McNally Lumber Company and the wheels had to come off to move it.  The tires were rutted when the second owner got it in Zillah. He always ran 1/4 inch blades on it.  The wheels have anti-seize material on the shafts so they should come off easily.  I got help getting the saw into my trailer and rigged correctly. Then it was a white knuckle drive back to Portland from Zillah.  Everything made the trip safely. I rented a fork lift to get it out of the trailer and into the shop.  I moved it into position with a shop made cart and my shop made gantry crane.
The band saw has 36 inch wheels and can re-saw up to 22.5 inches in height and 35.5 inches in width. According to its papers, its shipping weight is 3000 lbs.  It is powered by a 5 hp, 3 phase, 870 rpm motor.  The blade is tensioned with a lever and a weight.  The weight can be adjusted along the lever to accommodate different blade widths. The guides are meant for thinner blades which is what the previous two owners ran on it. The tires are rutted and need replacing as only thin blades have been run on it.  The upper guides are helped with their vertical movement by a counter weight. The band saw has a foot break as the wheels have a lot of momentum in them. The table tilting mechanism is very smooth. It tilts 45 degrees to the right and 10 degrees to the left.  There is an adjustable swiveling arm that stops the table at level. It has a 4 inch dust collection port near the floor.
In the video, I demonstrate some of the jigs I have made for it.  The first is a tall fence for re-sawing. The second is a circle cutting jig for making bowl blanks for the lathe. The  third is a jig for holding big stout objects as they are being cut in a straight line.  In the end, I make a birch band saw bird feeder to demonstrate the saw.
Comments Off

on J. A. Fay & Egan Co. 950 lighting